Order a copy of a civil record: Birth, Marriage or Death.
If you already have found the reference details of an specific civil record (Birth, Marriage, Death), using for example Familysearch.org, we can order a copy of the original record at the General Register Office for you, collect it and send it to you by email.
If necesary it will include a translation to spanish for those spanish speakers.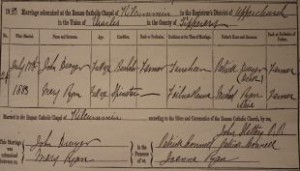 The fee to be paid  is 9 € per record. A special price will apply if you order  few of them.

Please note that it is  VERY IMPORTANT  that the reference details you provide are correct, as the fee is not refundable if there is a mistake, so you need to check them carefully.

Please send us the following details by email to : info@genealogia.ie 
Type of record: (Birth, Marriage, Death)
Name and surname of the ancestor
Registration year:
Quarter:
Registration district:
Volume:
Page
---